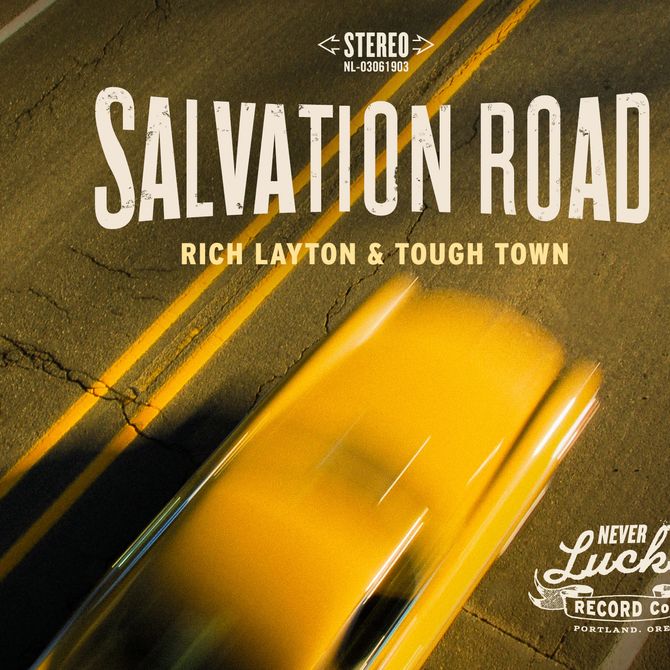 Reviews
Eric Steiner, Washington Blues Society (June 2019 Issue)
Salvation Road is Rich Layton & Tough Town's first release in eight years, and it's been well worth the wait. Layton wrote 10 of the 11 songs on the CD, with the lone cover of the Goffin-King hit, "Take a Giant Step" recorded by The Monkees, the Rising Sons (Taj Mahal and Ry Cooder) and Taj's daughter Deval. I particularly like the uptempo "Live to Rock," "Two Hearts" and "Show Me What You're Working With," and the soul blues of "Wake-Up Call."
"Wake-Up Call" showcases Layton's fine songwriting skills as he recalls life's moments that serve as wake-up calls, bathed in elegant saxes and smooth background vocals.
Backing Rich on the CD's strong set are Larry McCoy on guitar, Eric "Haus" Krabbenhoft on bass and Charles Pike on drums, with special guests such as the Grammy-nominated Teresa James on vocals and piano, Portland legend Jon Koonce on lap steel and Chris Mercer (a Blues Breaker alumnus) on sax. Engineer and coproducer Terry Wilson adds guitar, bass and backing vocals on several tracks, and Rich's "deep bench" includes 10 other musicians, ranging from a robust horn section to other drummers and background vocalists.
Fans of The Big Lebowski will revel in a crowd-pleaser at Rich's live shows, "The Dude Abides," which looks back to one of Jeff Bridges' most memorable film roles. The walk down Salvation Road is an exceptional 49-minute journey from a strong Rose City band.
Click source for link to full review.
"

Gritty and full of passion, 'Salvation Road' hits hard and fast."
"

With 10 originals and a psychedelic '60s nugget, Salvation Road is a high-octane trip roaring down two-late southern asphalt."
"

A cool rockin' collection of 11 songs delivered with confidence, clarity and cleverness from a man who has mastered his craft..."
Articles & More Reviews for Salvation Road
American UK review by
Mark Johnson
Vortex Magazine review
by Chris Young